Dressing babies and toddlers for sleep is all about safety and comfort as parents try to ensure their child is getting a good night's rest with quality sleep. The way your child dresses for sleep can begin to change as they grow and reach various milestones. For a newborn who loved to be swaddled, you may have found yourself transitioning to a sleep sack that still provided your baby that same comfort without restricting their newfound mobility. With toddler age soon approaching, you may be wondering what is next for your sleep time routine and dress. 
For all things sleep and bedtime for your toddler, Dreamland has you covered. In this blog, we will review how your toddler should dress for sleep and how other products, like the Dream Weighted Sleep Blanket and Dream Fitted Crib Sheets, can keep your toddler cozy for a sound night's rest.  
How should a toddler dress for sleep?
As we have mentioned, dressing a toddler for sleep should be focused on comfort. Your toddler will now likely be much more attune to what feels good and what does not. This will mean ensuring you've got pajamas that match the temperature of the room and are made from materials that will feel good to the skin. 
Dreamland's 100% cotton pajamas Dream Pajamas are the perfect option for keeping your toddler comfortable in their sleep. The 100% cotton material provides a lightweight, breathable, and comfortable option for sleep time. Not only that, the 2-way zipper makes the sometimes-inevitable late-night diaper change much less disruptive to your toddler's rest. With sizes ranging from 0-3 months all the way to 3T, your little one can keep enjoying the comfort of Dream Pajamas from newborn to toddler.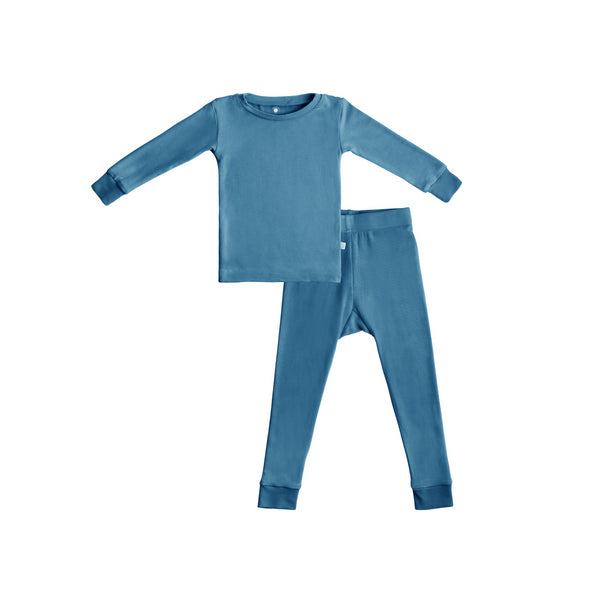 Should kids sleep in pajamas?
As children get older, parents can often question if having designated pajamas is necessary. While this can vary based on individual family circumstances, getting into pajamas is typically a big part of the sleep time routine. The single act of getting into clean and comfy clothes can help your toddler identify it is time to go to bed. Not to mention, pajamas (especially when they are comfortable) can act as comfort or security to your toddler. 
When babies are little, oftentimes their daytime clothes and 'pajamas' are interchangeable. With your little one getting older or reaching toddler age, they are probably doing much more adventuring. This being said, it is never a bad idea to keep pajamas separate to always ensure a clean and comfortable night time outfit. 
How do you choose the right pajamas for your toddler?
When looking to choose the right pajamas for your toddler, keep in mind these few considerations for the best toddler pajamas: 
Comfort:

A toddler can be much more sensitive to their surroundings and clothing as they get older. Finding breathable and comfortable materials will help keep your toddler comfortable for sleep. 

Temperature:

Keep in mind that the temperature of the room and time of year can determine how to dress your toddler for sleep. While they are getting older, it will still be up to you to decide what clothing is appropriate for the temperature and adjust layers if needed. 

Preference:

Your toddler may begin to have some very particular preferences. Fun, right? Just like they may have a single princess dress they want to wear every day, the same can go for pajamas. When you find a comfortable pajama that your toddler loves, you can never have too many sets. The

Dream Pajamas

are offered in various patterns, and even designed to perfectly match Dreamland's sleep sacks. 
Why should toddler pajamas **fit** tight?
Toddler pajamas are intended to have a snug fit, for good reason, and it all comes down to safety.  It's recommended that toddler pajamas have a snug fit due to the danger of loose-fitting clothes when it comes to flammability. With toddlers having much more mobility, it is cautioned that they have more risk of potentially encountering even small flames. Snug fit clothing can prevent any loose cloth from reaching any flame and can prevent the severity of burns that may occur, due to the lack of oxygen between clothing and skin. 
What kind of pajamas should a toddler wear?
Many of the pajamas you loved through your baby's infancy can still be appropriate for toddler age. Toddler pajama options can range from two-piece sets to a traditional onesie or bodysuit. Keep in mind the considerations we've mentioned above when it comes to toddler comfort and preference. Don't forget that a benefit of a bodysuit for parents can include the ability for zippers (like Dreamland's unique 2-way zipper) to make nighttime diaper changes or potty breaks much more seamless. 
How many pairs of pajamas should a toddler have?
The number of pajamas you choose to keep on hand for your toddler can come down to preference or access to a washing machine. Common consensus for parents seems that 4-7 pairs of pajamas is typical. Laundry can add up for busy families, which means it never hurts to have more than less in the case of baby clothes. You may also want to consider if your toddler spends time in the care of others or at other houses. Having a few sets of pajamas packed in the diaper bag can come in handy for the unexpected delays and impromptu bedtimes at Grandma's house. 
Conclusion
Sleep time can be challenging for many parents as they navigate nighttime routines and how to dress their baby for comfort and quality sleep. As we have mentioned on this page, the transition to toddler pajamas does not have to be a drastic one. Finding the right pajamas for your toddler takes some consideration of comfort, temperature, and preference.
Dreamland's Dream pajamas
are the perfect solution to a breathable and comfortable pajama for your toddler. Consider bundling Dream Pajamas with
Dreamland's Weighted Sleep Blanket
(for kids and toddlers ages 3+ and/or 30+ lbs). Together this bundle can help your baby sleep through the night despite the changes their little bodies are going through.